---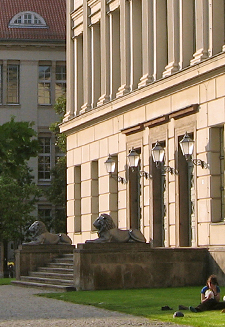 ---
---
Contact
Mail | Postanschrift | Fax
Martin-Luther-Universität Halle-Wittenberg
Abteilung 1, Immatrikulationsamt
06099 Halle (Saale)
Fax: 0345 55-27514
---
---
Login for editors
---
Student Registration Office
Applying, enrolling, re-registering, changing your study programme, applying for a semester off or studying part-time - the Student Registration Office is responsible for these and similar questions concerning your student status. In short: Your student file is in our hands.
Our "main business" is to enrol you correctly at Halle University. That is why our most important link leads straight to the APPLICATION.
For many other student concerns we offer several thematic pages, which explain basic questions intensively and, at best, clarify them directly:
change notification | absense of leave | corona FAQ for students | exmatriculation | health insurance | Löwenportal (help) | doctoral studies | re-registration/semester fee/SEPA debit mandate | student Email | change of study programme | tuition fees | academic year schedule | return of study place | Stud.IP (help) | student services and TAN | part time studies | Uni-Service-Card (USC; student ID)
Your individual case is not described there? You need advice (anyway)? Or do you need to submit documents? Then please feel free to contact us.
Important: Concerns within the degree programs, such as examinations and modules, should be clarified via the respective examination offices.
International Students Section
The International Students Section is also part of the Student Registration Office. It is primarily responsible for applications from abroad or with international certificates/degrees.
Meanwhile, the International Office takes care of concerns beyond administration: visa, arrival, information on everyday study life, guest studies, study/internships abroad, etc.
Team & Contact
Being part of the Student Service Center (SSC), we are located at Universitätsplatz in the Löwengebäude. Please first contact the Infothek on the first floor for on-site advice.
We provide information about our current availability at www.uni-halle.de/ssc.
The best way to contact us from a distance
You would like to clarify your request remotely? Then we recommend contacting us by e-mail: ssc@uni-halle.de
Students should use their student e-mail address and include their student number. You can also submit several documents as mail attachments (depending on the topic). We will forward incoming mails directly to the responsible contact. We ask for your understanding that the processing may take a few days.
Mailboxes & postal address
You can submit documents (applications, requests, etc.) contactlessly via our two in-house mailboxes at Universitätsplatz or hand them in at the Infothek.
Please address postal mail to:
Martin-Luther-Universität Halle-Wittenberg
Abteilung 1, Immatrikulationsamt
06099 Halle (Saale)
GERMANY
---
---